Frustrated By Crowded Pickleball Courts? Now You Can Play Pickleball At The Beach, Park, And Even Your Own Back Yard!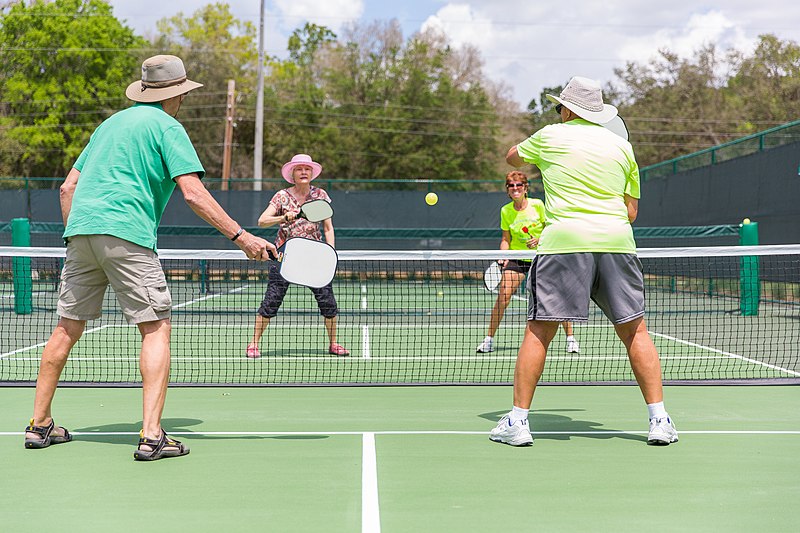 What was once considered a retirement activity, pickleball has become popular among Gen Z, Millennial and Gen X players, joining their Baby Boomer parents & grandparents on the courts of what is now the fastest growing sport in America.
As pickleball has exploded over the past several years, city planners have scrambled to keep up with demand for public courts, and private pickleball clubs seem to be popping up everywhere. Even posh tennis clubs are answering the bell, responding to the steady decline in tennis popularity by converting some of their courts to accommodate the "new kid in town".
Meanwhile, three friends in Provo, Utah had become frustrated waiting their turn on the overcrowded local courts. In an attempt to solve the problem, they bought a portable pickleball net and set it up in the grassy park next to their office.  Because a pickleball doesn't bounce well on grass, a few modifications would have to be made.  As they experimented on the grass and in the park's sand volleyball court, they adjusted the standard pickleball rules to accommodate for these soft surfaces. It soon dawned on them that they had just created a modified version of pickleball that could open up virtually unlimited court-space, and it was in that moment that the new sport "Sandy Pickle" was born.
Why "Sandy" and not "Grassy" Pickle?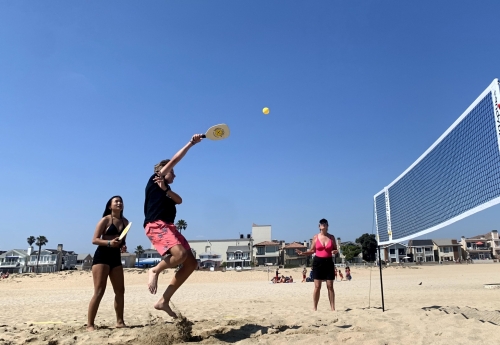 Two of the three partners grew up near the beach, one in Destin, Florida, and the other in Orange County, CA. While they agreed that their new game was equally as fun on grass, the beach has always been a "happy place" for the trio. In essence, a successful Sandy Pickle launch could be their ticket to spending time on beaches all over the world. Can you blame them?
Business or Hobby?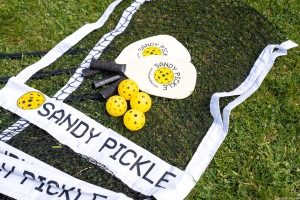 To be fair, the three friends were originally just looking for a way to get outside and play pickleball without competing for courts. It was only after friends and passers-by showed genuine (and sometimes passionate) interest in their new game that they realized what was happening. Somebody suggested launching a Kickstarter campaign which they did, and after reaching their funding goal, it was game-on. They formed a company, vetted manufacturing partners, and turned crowded court lemons into a lemonade business!
Today, Sandy Pickle is sold primarily on the company Website and at vendor marketplaces – most recently Sugarplums Market, Peppermint Lane Boutique, and the Maricopa County Home & Garden Show.
For more information about Sandy Pickle, upcoming events, or to order a game set, please visit sandypickle.com.