Beach volleyball is a variation of traditional indoor volleyball, played on a sand court. The rules of beach volleyball are similar to indoor volleyball, with a few key differences. Here are the basic rules of beach volleyball: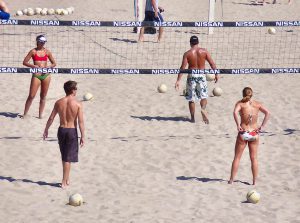 A beach volleyball team consists of two players, one on each side of the net. Although recreationally it is perfectly acceptable to have more players like in traditional volleyball (6 per side), TRUE beach volleyball is a 4 player game, 2 per side. 
2. Court Size / Dimensions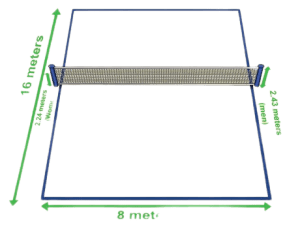 A beach volleyball court is 16 meters in length (52′ 6″) and 8 meters wide (26′ 3″). With just 2 players per team and on a sand surface, it is more difficult to cover the entire court than in traditional volleyball, which is why these dimensions are slightly smaller than indoor / traditional volleyball. High school courts are 60′ (18.29 meters) long by 30′ (9.14 meters) wide; college courts are 59′ (18 meters) long by 29′ 6″ (9 meters) wide.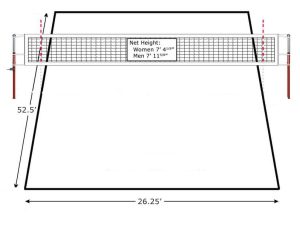 For men, the regulation net height in beach volleyball is 7′ 11 5/8″ (2.43 meters) and for women, 7′ 4 1/8″ (2.24 meters). The total length of the net often varies, but at a minimum it must be longer than the court width (26′ 3″), and the official height of the netting itself is 39″. As long as the net height and court boundaries are accurate, some variation in the size of the actual net doesn't significantly affect play.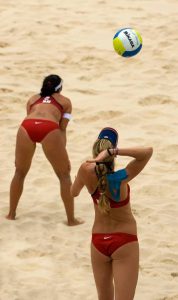 The player serving may begin the serve from anywhere behind the end line boundary, and jumping toward the net is allowed so long as the ball has been hit before any part of the servers body touches the end line or sand.  Underhand and overhead serving with a closed fist, forearem and open hand are all allowed (using just one arm or hand).  The ball may be aimed at any part of the opposing team's court area (regardless of which side), and note that a "let" is considered playable in beach volleyball on all serves EXCEPT match point. 
After losing a rally, the serve switches to the other team. Players switch positions after winning the serve back on a side out.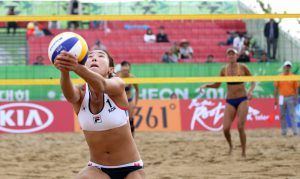 Bump. Set. Spike! After the serve, each team is allowed a maximum of three touches to return the ball over the net. Players can use any part of their body to touch the ball, but the same player cannot touch the ball twice in a row. Also, in beach volleyball, the ball must be cleanly hit and not held, carried or otherwise "controlled" by the fingertips.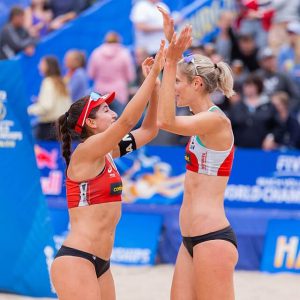 Matches consist of the best 2 out of 3 games, with the first two games played to 21 (although since you must win by 2 points, the final score may actually be higher). Unlike pickleball and Sandy Pickle, points in beach volleyball are awarded to the team that wins the rally regardless of which team served (rally scoring). In Olympic beach volleyball rules, teams switch sides at each multiple of 7 for the first two games. If a 3rd game is required, it is played to 15 and teams switch sides every 5 points.
A rally is over and won or lost when: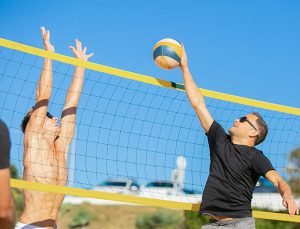 The ball lands beyond a boundary line; a ball touching any part of a boundary line is in (similar to pickleball and Sandy Pickle)
The ball fails to make it over the net within the allowed 3 touches (blocking counts as one of the 3 touches)
Any player touches the ball twice in a row (unless their first touch was a block)
The ball is caught, thrown, or otherwise illegally hit
A player reaches across the net and touches the ball within the playing space of the opposing team. There is no fault if reaching over or crossing under the net does not interfere with the opponent's ability to play the ball.
A player attacks the opponent's serve when the entire ball is higher than the top of the net
A player touches any part of the net with any part of the body, except when the ball hitting the net causes the net to move into a player's space